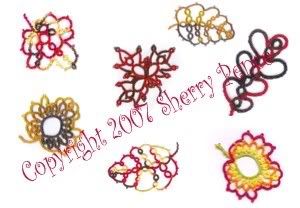 I have been working on several leaf patterns. Autumn is my favorite time of year and I am inspired by the hand dyed thread possibilities that lend themselves very nicely to leaf patterns.
In the photo are my own hand dyed tatting threads and the "tigereye" is Marilee's.
Sherman has passed away due to the cold weather. I took to bringing sherman in at night to keep him warm and then I let him out during the day...but I am afraid I just prolonged the inevitable. Wikipedia says that the female mantids pass away when winter approaches and it is my guess that sherman was a full grown long lived female. It still makes me sad.
Also I have recently made a pretty major life decision and a tough one at that. I have refrained from blogging about it because I have been so emotional, but now that some time has passed I can view it more stoically.
As I have stated before, the military is sending my husband away for a year. Wives and families are not supported or encouraged to go along on this particular assignment. However, they cannot stop me from going along if we pay for myself with out of pocket expenses. It was a heart breaking decision in many ways because I will have to give up pottery for a year and lose that business. It has taken me years to get where I am and it is like taking 1 step forward and two steps backwards by abandoning it at this point.
We will have to pack up all of our belongings and put them in storage. We have to give away our kitty (whom I will miss so very much.) We will be renting out our home so that we don't lose it (cannot sell it in current market conditions) and we will sell our vehicle.
We have lived here a little over two years and it has been the best experience of my life as well as being the longest I have ever lived under the same roof....ever. I don't want to leave. However, my husband and I have been separated for more than is humanly fair and I cannot take it anymore...so I am willing to sacrifice my sanctuary and stability to go and be with him. It's the best thing for our marriage.
The best news is that I am going to take all my tatting with me since it is so portable and I am hoping to make a bunch of shuttles before I leave and take them with me so that I can still sell them.
I am looking forward to many new adventures and traveling and who knows what great things I will learn? The excitement is starting to catch up and will soon overtake the feelings of loss.
I still have a few months before all this takes place. Love will prevail as I get to be with my husband and best friend!