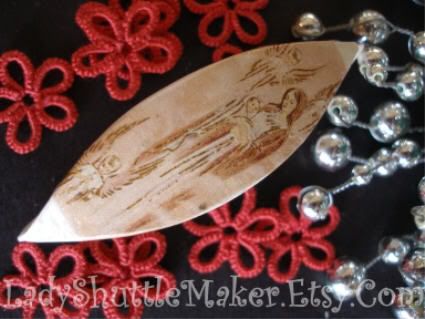 The December tatting "Shuttle of the Month" is finally listed. It is an angelic nativity scene with Mary and Jesus.
It is $5 off plus free shipping.
Speaking of free shipping there are only two more weeks to take advantage of my holiday shipping rates.
Also, I've listed over a dozen new shuttles in my Etsy shop.
Last night we were in a rear-end collision (we were hit) while sitting at a stop light and the impact was great enough that immediately my back started hurting. I didn't sleep a wink last night and I feel pretty miserable today. I am currently tyring to be seen by the doc's...but it's a friday and I am not having much luck. I am afraid I am in for a doozy of a weekend.