I think it was in one of
Gina's
posts the other day....she mentioned how she will buy a spool of thread because it looks so beautiful but when she goes to tat it up it looks like crap. I sometimes worry about that with my own
H
and
D
yed
T
hreads. I decided to go ahead and tat up some size 20
"Sunset Clouds"
because it is my most inspired thread to date and has the highest number of color changes. I was thinking, "I hope this isn't one of those threads that looks better in skein form than in tatting." Well, you can judge for yourself, here is a sneak peak: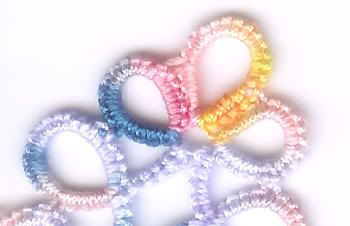 I, for one, am delighted with it and it has pushed me to really think critically about how the threads will tat up. The whole purpose of this thread was that I wanted people to be able to see the sunset in it. Can you?
O.k. next topic:
Hello, my name is Sherry and I am addicted to HDT. Thanks to
Yarnplayer
for getting me hooked. I couldn't afford to sustain my own habit so I became a supplier.
We know that
Clyde
and
Laura
and
Diane
are addicts too but there are several others out there. Perhaps we need to start a support group. If you are an addict will you please raise your hand by leaving a comment on this post?
If you haven't tried HDT you are probably thinking, "What's the big deal? How is it any better than regular thread?" Well, you will just have to see for yourself...it really is quite an experience the first time you tat with HDT; it's hard to go back to regular thread. Maybe it's all the love that is put into making them that makes them better. We certainly know that the dyes make them stronger and shinier. I am not sure I can quite put my finger on it. Just beware, if you try HDT you are running the risk of becomming an addict yourself.
With all silliness aside, my goal is to list a new batch of thread everyday until I run out of thread. I don't want to bore you with HDT posts everyday so you might just have to check the shop to see what is new.
I will blog about a thread if I think it is particularly worthy such as this
"Tuscany"
thread inspired by an Italian landscape painting.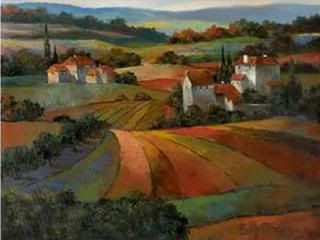 Also, I am adding size 10 tatting thread to the shop very soon.