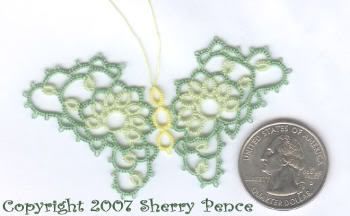 This butterfly is called "Honor" and this pattern can be found in my book
The Exquisite Collection of Tatted Butterflies"
. I have tatted this pattern many times. It's one of my very favorites and among the first of my original designs.
This is a simple pattern if you know how to do split rings. It also tats up pretty fast. This is done in size 80 Majestic thread.
It seems like all the tatting I am doing lately has become "work". So I took a break to tat something fun. I think tatting butterflies is one of my very favorite things to tat because you can be as liberal as you want with color and it's a great excuse to use multiple colors.