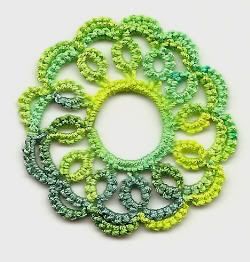 I needed to take a break from designing so I pulled out
Patti Duff's
Mini Tats.
It's motif #55 on page 41.
I've been wanting to tat from Patti's book since I aquired it, and I am so glad I finally took the time to do so.
The book is full of really lovely designs in bite size pieces...perfect for some relaxing tatting.
I used size 20
"Seaweed"
tatting HDT.
I will definately be tatting more from this book.