Does anyone feel a little overwhelmed with life right now? I certainly do.
I have so many projects going that I am not getting much of anything done.
I am learning new languages, working on my T.A.T Masters, designing, trying to finish a new tatting book, keeping up two blogs and an Etsy shop, and dyeing larger and larger batches of thread.....hmmmm now that can see it on the screen it doesn't seem all that bad. But I do feel like I have gotten way behind on some of my goals.
Anyway, I also feel like I am struggling to keep up with all the other tatting blogs just now. Is it me or has the tatting community just exploded with vibrancy in the last couple of months. It's so wonderful!
I am working on making some of my hand dyed thread colorways a permanent fixture in the shop. I just need to decide which blends those will be and I am having a tough time choosing. If anyone wants to put in their two cents I am all ears.
Here are some recent experimental silk colors...these are more like solids, they are very subtly shaded.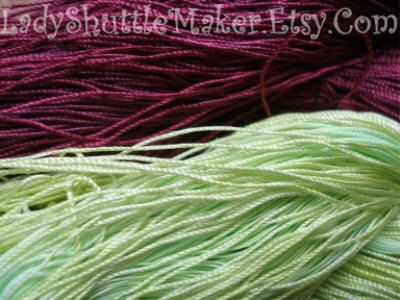 I will leave you with one of my very favorite quotes today...because it always makes me happy to read it.
"Our deepest fear is not that we are inadequate. Our deepest fear is that we are powerful beyond measure. It is our light, not our darkness, that frightens us.

We ask ourselves, who am I to be brilliant, gorgeous, talented, and fabulous?

Actually who are you not to be? You are a child of God. Your playing small does not serve the world. There's nothing enlightening about shrinking so other people won't feel insecure around you.

We were born to manifest the Glory of God that is within us. It's not just in some; it's in all, everyone. And as we let our own light shine we unconsciously give other people permission to do the same. As we are liberated from our own fear, our presence automatically liberates others."
I think this is by.... Lois Trader