I am not the kind of tatter that learns well from books. I learn best by watching someone else do it. Unfortunately, in my 18 years of tatting I have never seen anyone else tat besides my great grams. That will soon be remedied once I attend my first tatting
convention
in April. I am so excited and nervous. There are a lot of techniques that I haven't learned yet. I taught myself split rings and now 2 shuttle tatting but the funny thing is, is that I don't know if I am doing it correctly. Ah well, I guess I'll find out how well I am doing soon enough. I don't know if these are original patterns or not. I have never seen them before. I adapted them from some of the beautiful tatting I got in that wonderful package I blogged about below. As I stated, I think many of the patterns I purchased are original designs. Unfortunately, I have no information on who this talented tatting artist was.
If anyone has seen these patterns before please let me know where so that I can attribute them properly to the author.
2 Shuttle Motif Patterns adapted by LadyShuttleMaker from unknown author: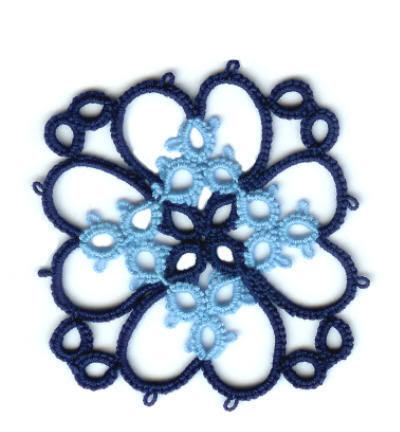 This Blue Square Motif pattern is free with every shuttle purchase!!!!