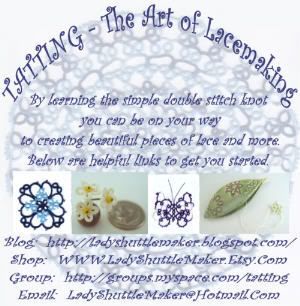 So... O.k., this isn't really a pamphlet...more like a glorified business card at this point.
This is something I thought might help promote tatting while I am out in public. I will give this to all those curious people who approach me wondering what it is that I am doing.
I can't afford to make a little booklet to pass out for free...wish I could. So in the meantime, this is a little work in progress which I will be testing out this weekend during my travels. Currently, only links to my sites are on the pamphlet because I have not yet received permission to include anyone else's.
I am sure I will revise this many times but for now I think this is a good start.
I get to spend hours at the doc's today and more hours at the airport tomorrow so I am ready for all those inquisitive folks to approach. With my luck, now that I am ready for them no one will talk to me.....hee hee.
I'll let you know if I am successful or not.