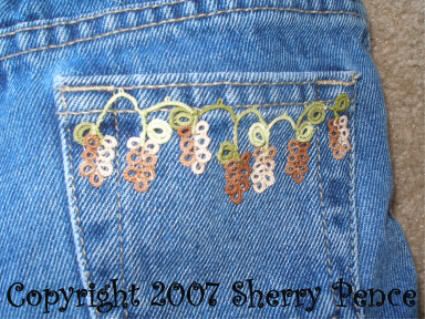 I decided to use my edging to finish off the other rear pocket. I think I'll leave the purse as it is for now. I may decide to add more embellishments in the future.
Now I am just going to enjoy using it and I am sure the purse itself will become somewhat of an ambassador for tatting when I am out in the public. I'll have to be sure to bring along my tatting brochures to pass out to those who are interested.
My hand is doing ever so much better today. I currently have the bandages off to let it air out some. I am hoping that in a few more days I can get fully back to work.
Also, I have been using my down time to get to know a diagramming software that Jane E. so kindly introduced to me. I am working on diagramming all my patterns. I am rubbish at it right now but Jane is trying to help me get better. Bless her!
My goal is to have all my patterns neat, clear, concise, diagrammed and published by Christmas. Sounds easy enough....Yeah right!