I managed to block this last night. My biggest fear was bleeding all over it but that didn't happen. I am still in pain but today it doesn't seem as bad as it did last night....probably because all the bleeding has stopped. I will not be able to work for awhile but I am getting pretty good at typing with my left hand so I might try to get a lot of computer work done over the next few days.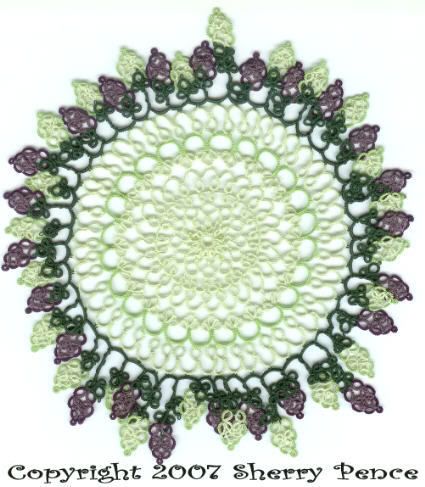 I was going to put this edging on a hanky but soon realized that it would be a hanky I would never use, so I got loftier ideas and designed a doily for it. Can we just say that this took foooooreeever to make.
I'm calling it the "big" project because of what it involved and not so much the size of it. Especially since this is done in size 80 thread.
This is the most technical piece of lace I have designed to date. Of course the edging took 5 shuttles but there is also a lot more involved in this piece including, split rings, mock picots, split chains, encapsulation, tatting over tails, down joins and a crazy technique I made up but pretty sure have not invented.
I did all the technically "right" things when making this which has spawned some deep thinking such as; Is it really worth it to spend 5 minutes on a split chain to jump out of a round rather than 5 seconds to cut and tie and hide the ends later???
I am still pondering that.
Also when working with as many different colors as I tend to, some of those techniques will not work.
But anyway, here it is. I hope you like it!