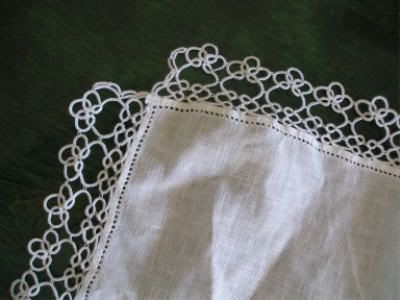 So here is the "fancy" edging I decided to do. It is another one of Mary Konior's
Tatting with Visual Patterns
"Bo Peep" pattern. pg. 33
Only what you see is done...I have a long way to go. I have not finished the corner yet. And of course is has not been blocked yet.
I took out all the frilly picots and am changing up the corner treatment.
I love handkerchiefs! In my mind they are from a long lost "genteel" time. Even though I am a bit young to ever see anyone use a handkerchief I am nostalgic for that time period.
I have given away every hanky I have ever made. I think this time I may keep one of these for myself.