So I have been working on my diagramming software. I have diagrammed several patterns already but there isn't a single one that I am truly content with. I guess I am hoping that if I keep practicing that something will "click" and I can go back and change them until I am satisfied. At this rate it is going to take five years to get my tatting book published.
Anyway, I didn't mean for that to sound so negative, it's just that it seems the diagramming is taking longer than the actual designing and that is frustrating to me.
I don't know if anyone has noticed the few changes and additions to this blog. I have started a
ceramics
blog, and have added some etsy banners. All this to help promote not only my sites but all those other handcrafters and artists out there as well.
I sent my book submission off and I chose the overwhelmingly popular vote of the "B" picture. The book won't be published until Fall 2008 so it will be a long time before I know if I am accepted or rejected.
I have finally purchased some of
yarnplayers
hand dyed tatting thread and am very excited to receive it in the mail.
My company is leaving today and my hubby is leaving tomorrow. It will again be quiet but lonely around here. I should have plenty of time to work on the plethera of projects I have lined up.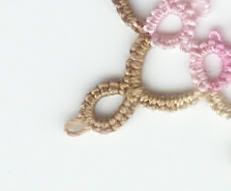 This is a teaser for a new motif that I am working on.