I am working on new gift cards to include with all my sales both tatting and pottery related. These have a little tatting bits on them. What do you think?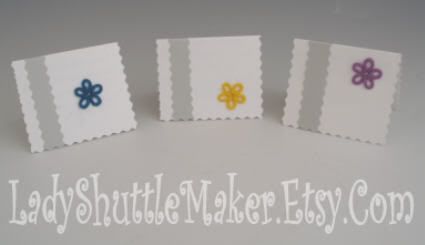 Also, I haven't found the need for picot gauges until recently when I wanted to do that picot trick on one of my butterfly patterns. Anyway, I found a use for those phony credit cards I am always receiving in my relentless onslaught of junk mail...yep, you guessed it...we have picot gauges folks!
I am sure someone has already thought of this out there but here you go anyway. I use these little plastic cards for pottery tools as well.