I'll apologize from the start if this post has a negative slant. My heart and mind are not in a very good place right now.
The good
is that today is my husband's birthday and he is home for the first time in 9 years so that we can actually celebrate together. We have missed out on way too many special events since he dedicated his life to serving this country.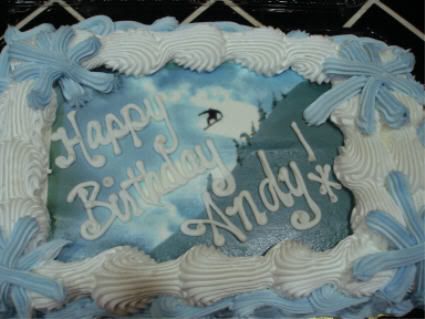 Before the military he was a professional snowboarder, so I took this picture we had of him and had it turned into a cake. I think he is pleased.
It seems that we can never have good news without something bad to balance it out.
The bad
is that the military has changed our assignment three times and we got the final word on our fate last night. Needless to say that I am not the least bit happy about it...which leads us to the ugly.
The ugly
is my bad attitude. I am trying to be graceful but it's hard when you've spent nearly a decade being jerked around, never being stable and never knowing where you are going to live a year from now. I will adjust. I told my dear hubby to just give me some time to get used to it.
My mother in law sent me this recipe a little while back:
Recipe for a military wife

1 1/2 Cups Patience
1 lb. Adaptability
3/4 cup Tolerance
1 tsp. courage
A dash of Adventure

Combine above ingredients : Add 2 tablespoons elbow grease. Let sit alone for one year. Marinate frequently with salty tears. Pour off excess fat. Sprinkle lightly with money. "Knead" dough until next payday. Season with international spices. Bake 20 years or until done.
Dedicated to military wives everywhere , who have waved good-bye more often than not , who have heated up more dinners than most wives cook, who have missed more anniversaries , birthdays, Christmas's and Valetine's day than they should have and most importantly of all have welcomed their husbands home GLADLY.

Author unknown.
I don't know if this helps or makes me feel worse, but I know that I am definately not alone.
I apologize for the lack of tatting pics and news in my last few posts. Be assured that for the last 14 days I have been tatting and re-tatting up a storm. My hands are hurting from tatting so much. I hope it's all worth it in the end.