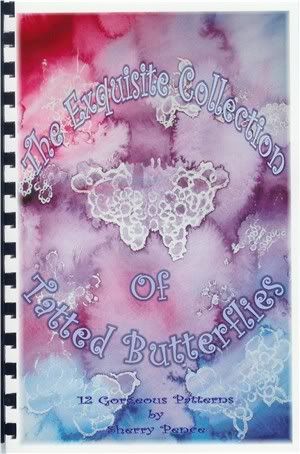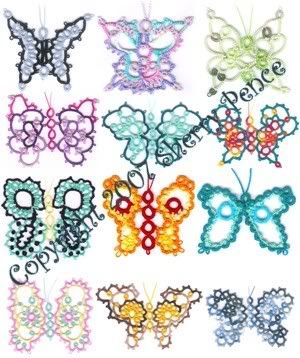 It is finally here! Thank you all for your encouragement and patience.
If you haven't already guessed, the first book is all about butterflies.
I will release my other more advanced patterns next year when I can get some help from the "tatting guru's that be" on how to write up my new technique.
Anyhow, this book was a year and a half in the making. I am so happy it is finally finished. I had no idea of the the unforseen complications that would arise in an undertaking such as this. I learned ever so much and I am very proud of the final product.
I was uncompromising in it's production process and I think I drove a few people crazy.
Awhile back I asked members of the etatters group what they look for in a tatting book and I took into consideration and applied the wonderful answers I received.
Here is what you can expect from this book.
It has a range of skill levels from beginner to advanced.
You get 12 beautiful patterns (or up to 21 variations if you choose half butterflies).
Holiday Shipping applies until Christmas!
Holiday Shipping =
FREE to United States
and $2.50 Everywhere Else
Each tatting pattern has fully written instructions, glorious close-up color photos of each tatted piece, and each pattern is fully diagrammed as well.
This book is 29 pages.
It has a combbind so that the book lays flat when you need it to.
It has a gorgeous thick glossy cover....(that I spent two weeks painting over and over and ended up using the first draft afterall.) Hee hee
I used only the best paper available. It is the kind of paper that calendars are made out of.....nothing but the best!
As you can see in the photo above I am letting you see every pattern that is included in the book beforehand.
You can buy it right now using the paypal button to the right!
It will also be available in my Etsy shop but will cost an extra $1 to cover listing and commission fees.