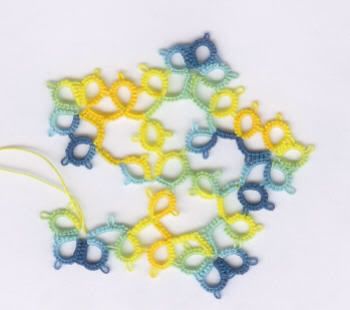 I got a little excited to tat something in the new "Spring Poppies" thread, so I chose this pattern from Tatting Patterns and Designs by Gun Blomqvist and Elwy Persson. It's Star #1 on pg. 45.
Everything started well, I was proud of myself for using a mock picot and split ring to climb out of the center instead of the cut and tie that the book called for, and things continued to go well until about half way through. Unfortunately I didn't load the shuttles with enough thread and ran out so I had to add more thread and tat over tails...that's all good and well BUT I ran out of thread AGAIN with only one ring and chain to go, then I noticed a mistake in one of the clovers so I didn't have the heart to finish it.
Aw well, I will probably use this scrap for the studio to make tatting impressions in clay....