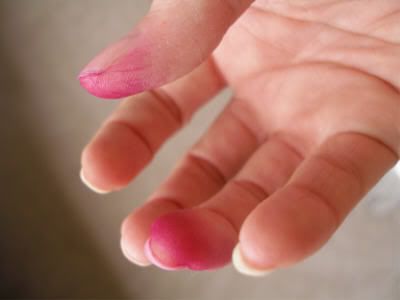 I always wear gloves while dyeing and I try to be ultra careful with the dyes as they are so potent and potentially destructive. Well, as you can see here, despite my best efforts I had two holes in my glove. I expect that this won't come off for about a week. The stains are much darker in real life than the photo shows.
It also gives you a clue what color to expect in the next batch.
Since my pottery production has come to a full stop and I have spent more way money on dyes and thread than I have made, I will be kicking up the amount of thread dyeing just a bit. Hubby is so insistent upon it that he has taken to helping me wind skeins at night after work. Bless his heart!
If I haven't already mentioned it, I am going to be a vendor at
Shuttlebirds
tatting convention. So I will be very busy the next couple of months getting threads, shuttles and books ready for sale. I hope to see you there!