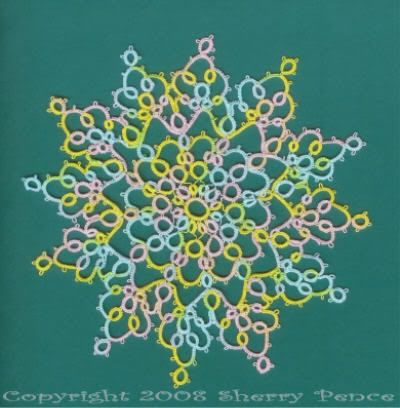 First of all here is the finished doily in size 80 hand dyed tatting thread "Baby Shower". Nope, I didn't make baby booties this time....those are for a later date. Does your thread sometimes chant to you,
"Tat me! Tat me! Tat me!"
?!?!?
Well, mine does. This thread wouldn't be quiet until I picked it up and just started tatting away. I don't design or even tat doilies all that much, but this was in my head and needed to be freed.
This doily design is 100% continuously tatted. I LOVE that it is tatted with one continuous unbroken string! Whoo hoo! I think this is a perfect design specifically for Hand Dyed Thread. I want to tweak the design just a bit and then I'll work on diagramming it.
Secondly, ....and this is exciting!
An excerpt from my Custom Hand Dyed Thread listing:
"Is there a color combo that you've been wanting but haven't been able to find?
Send me your color palette, and/or your own inspiration photo and and I will make you your own hand dyed thread. Just tell me what you want and be as specific as you can. You can even name your own thread!"
.....to learn more click
here.
And finally, I dyed a new batch of
"FUCHSIA"
and it is lovely.