Thank you to everyone who participated in the contest! I hope you had fun! I sure did!
Today is my official Blogaversary and in just one year I have had over 15,000 unique visitors. I am very humbled that my blog is even that interesting. Thank you to all my readers who keep me going and keep challenging me to be better. Thank you to all the new friends I have made, you have shown me that tatters are among the sweetest most generous people in the world!
Here's to another year (yes, I will continue to keep on blogging as long as I can), I hope to entertain, educate and further the art of tatting!
The answers to the contest are:
1.) Who/what was my unwelcome visitor in my studio?
A Black Widow Spider.
2.) What is my favorite time of year?
Autumn
.
3.) What do I use for picot gauges?
Phony credit cards.
4.) Who is Cecil?
An amazon parrot I met at the bead store.
5.) How did I receive my hand injury?
The injury was the result of a dog attack
.
The winner is: MIMI DILLMAN! Congratulations Mimi!
Can't leave without a picture....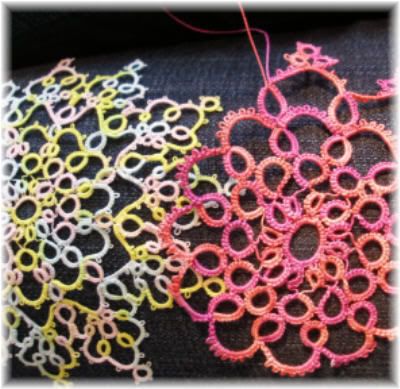 Here is the same doily in size 20 "Fuchsia" HDT. I love the way it is tatting up. I wanted to show the difference in size between 80 and 20 tatting thread. I have a ton of other projects which should be taking precedence right now but here I sit procrastinating AGAIN. I am getting really good at this procrastinating thing.....I am pathetic.....