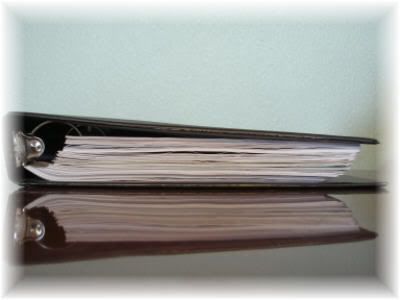 I cannot tell you how nice it is to have my DH home again. Everything just seems to break and go wrong while he is away. Now that he is home again, a little stress has lifted from my shoulders.
This photo may look boring, but what is inside the notebook is several years worth of collected tatting patterns that I have found on the internet. I put it together last night and it is a real treasure. Thank you to all the designers out there who generously share their patterns.
I am in the process of getting ready for Shuttlebirds, working on new shuttles, dyeing lots of thread, working on tatting designs, packing, catching up on doctor's appointments...the list goes on and I am still not sleeping.
Has anyone come up with a way that I can clone myself yet???