In other words, (and alphabetically because I'm a few donuts short of a dozen)...absurd, baked, balmy, bananas, batty, bonkers, cracked, crazed, daft, demented, deranged, dippy, dizzy, flaky, flipped out, foolish, goofy, hair-brained, idiotic, insane, irrational, kooky, loco, loony, mad, maniacal, mental, nonsensical, nuts, potty, screwy, stupid, unbalanced, unhinged, wacky, zany.
I'm not sure this even encompasses what I am trying to convey....
Everytime I work on new tatting shuttles I ask myself, "Why on earth am I doing this to myself?" It is absolutely one of the most difficult, time-consuming, and frustrating feats I have ever undertaken. As tatting shuttle after shuttle breaks in my hands and steam starts pouring out my ears, I have to remind myself what keeps me going. After all of the work and all of the losses, the shuttles that litterally make it through the fire are worth it. I have a pile of failures on one side and usually a smaller pile of successes on the other. Thank heavens that the joy of the completed product outweighs the torture of the process. These shuttles have blood and sweat put into them...but no tears this time...not yet...I'm too irritated for that. In addition, I am just a teeny bit stubborn and do not like to be defeated.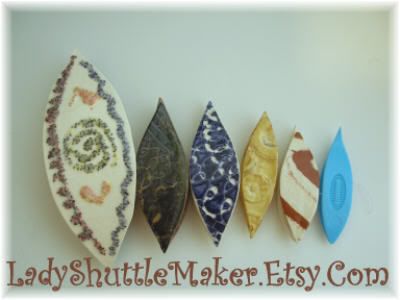 I've added some new sizes. The plastic clover tatting shuttle is thrown in there for size reference. The largest is similar to a Tatsy sized shuttle. Also, I engineered a tiny little signature stamp. These shuttles have the permanent signature stamped inside, which sets them apart from last years shuttles.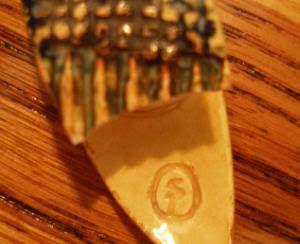 Here is a broken shuttle so you can get a peak at the new stamp.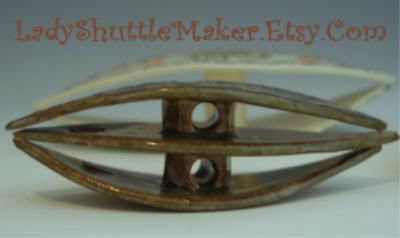 And here is a new shuttle you can keep an eye out for...it's the double decker. I will have these in large and small sizes. I have much work to get back to, so I will leave you with this for now. A few shuttles should be listed in the Etsy Shop by the end of the week! ....(fingers crossed).
**If you are interested in seeing the shuttle making process there is a slide show at the bottom of this page**