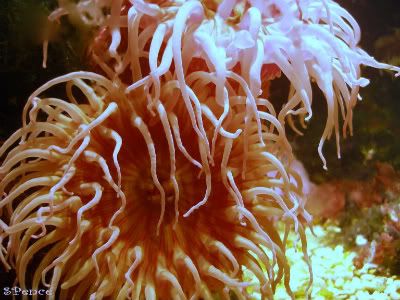 Going along with Tattycat's starfish theme, I found this photo that I took at Seaworld last year. I have many ideas for tatted sea anenomes floating in my brain, but since I don't have time to design just now I thought I'd see what you clever minds can come up with!
So I spent good 1/2 hour creating a photo teaser of the many new threads that I have dyed and am bringing to Shuttlebirds, and of course I lost it before I could save it.
Also, I am finding things I wish I would have shipped to Korea and things I wish I didn't because I still need them. Of course this was to be expected, but it is no less irritating.
Instead of re-doing the tatting thread photo teaser, I will list a few of the names of threads and let your minds run wild.
We have Marina, Icicle B2, Raspberry Mousse B2, The Rockies, Autumn Medley B2, Rainforest, Spring Poppies B2, and many more.
Shuttlebirds tatting convention is just 8 days away, and I am soooo looking forward to it. It will be a nice break from this hectic schedule. Whoo hoo!