This is only our 4th morning in the "LAND OF THE MORNING CALM", but we feel like we've been here for weeks already. We have been put to work right away, we are exhausted and haven't had a moments rest. All I want to do is sit and tat and eat chocolate! Last night was the firt time I didn't wake up at 3:00am. I slept in until 5:00am so I can tell that my body is slowly adjusting. Even our poor dog has jet lag...something I never considered was a possiblity. A jet-lagged dog is pretty funny!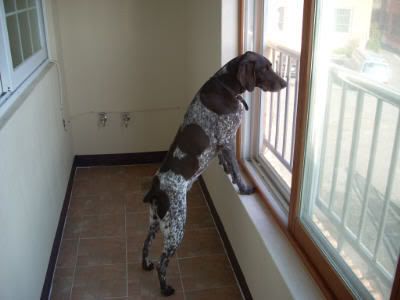 Here she is thoroughly enjoying the Korean views and smells!
Well, my dear friends, this blog space is dedicated to tatting and I must abide by the rules of the tatting ring and keep it that way. I have another blog dedicated to our Korean adventures for friends and family. If you are at all interested in being included, please send me a short email and I will happily send you the link to that blog.
I am so very impatient to get back to tatting as I have pages of notes and ideas that I want to try out. I also would love to somehow share tatting with the Korean cummunity here, so I am trying to think of ways to do that too.
Thank you for all the "welcome back" comments. I am so touched! I feel like I've been gone forever. I am trying to catch up on all your wonderful posts. I hope to be back in a "groove" again soon!