I am doing my happy dance...(perhaps a bit like Elaine's dance on Seinfeld).
Anyhow, it felt soooo good and I can't wait to tat some more. Sadly I cannot show what I tatted because it is a "test tat" for a friend's book. But I'll just say that it is pretty cool!
I am getting back in my groove! I woke up at 6:00am instead of 3:00am, so my body is finally starting to adjust to the drastic time change. No more naps during the day and I will try to stay up later than 8:00pm tonight. The bed that we are sleeping on is as hard as a rock, so I have been having trouble with my neck and shoulders. It looks like it's going to be another month before our household goods arrive. I won't be able to dye any new threads until the shipment arrives. I WILL try to get some tatting designs done though.
Since I cannot leave you without a picture, I will show you something I ate today!
It's my year of new experiences!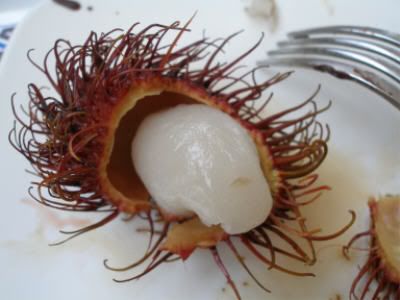 And it was
GOOD
!
Also on my walk yesterday we passed this gorgeous shade cover and it smelled soooo good! Which was a nice change to the pockets of stink we have been finding all over the place.
I would love to grow my own lilac shade cover one day!
And lastly, I have been unable to comment on many of my fellow tatter's blogs. It is a technical issue on my end. I hope it fixes itself soon because I have so many things to say about the great tatting and blogging going on.