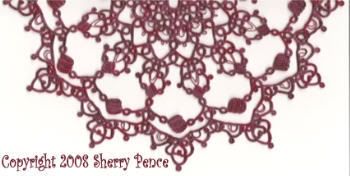 After 5 months of working on this design. I have finally finished what may be the only doily I ever design. I didn't just sit and tat this one out, it was very carefully planned and executed. Tatted and re-tatted and re-tatted..etc.
It is a pattern that will delight advanced tatters. There are several "themes" that are carried throughout the design.
It is continuously tatted in two rounds. The inner round using just one 50 yrd skein of size 20 hand dyed tatting thread. With the second round it measures 11" in diameter.
It includes some interesting "picot fun", the "dimpled yorkie", block tatting, split rings, and mock picots. Tatted in the Front/Back side method.
**
No split chains
...neener neener*
I have documented the process of making this doily and now I am putting together the pattern. I am in the process of re-tatting it one more time...this time in silk...just for good measure.
Now to the contest:
I cannot for the life of me think of a good name for this design. SOOOOO I thought it would be fun to have a little naming contest. Eternal Glory will be bestowed upon the winner as well as a complimentary copy of the pattern.
THE RULES:
1.) Anyone can enter, but be forewarned, this is a pattern for experienced tatters.
2.) You may submit up to three entries per person.
3.) Entries must NOT be posted in the comment section but rather, email them to
me
with "Doily Contest" in the subject line.
4.) Entries will be accepted until midnight July 13th. (That would be Pyeongtaek time).
5.) I will choose my favorite entry and announce the winner on July 14th.
Good luck to all!
Here's a bonus post:
This is my cousin's baby, "Miss Chloe" growling at the camera.
Chloe can just go right ahead and call me "Auntie". ...uh huhh! I don't lightly claim nieces and nephews so this is a major compliment.
I have not had the opportunity to meet her in person yet...but I can attest to the fact that her big brother is a character too and every bit as cute as she is. It looks like she is turning out to be quite the little tomboy which automatically endears her to my heart. Can't wait to meet you Chloe!