Now that the daily fevers are gone and I am getting my energy back, DH and I are finding that I'm a bit full of
"it"
, so bare with me on this rambling post. Can anyone tell that I am feeling better? Hallelujah!
Thank you to TattingChic for awarding me with: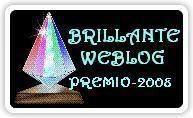 I am very honored! I think I will decline from participating in passing it on because I agonize over who I should give them to. Instead I will turn the glory back on
TattingChic
. If you haven't stopped by her blog yet, you must! She has not been blogging for long but her blog has skyrocketed in popularity due to her amicable personality and wonderful sense of humour, and not least of all, her kindness in reaching out to the tatting community and beyond. She is our social butterfly! You go girl!
I am working on a bunch of tatting projects at the same time. I'm having a hard time focusing on just one thing.
This may look like a familiar start to a project everyone was doing awhile back. Yes, I am soooo behind the times. I still need to tat Jane's
TIAS
.
I am working on a new batch of "Rainbow Sherbet" HDT. I did this colorway very early on before I started taking meticulous notes. So I am finding it a bit of a challenge trying to recapture that former "magic".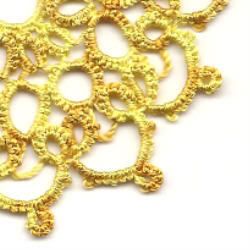 As you can see I haven't gotten very far on re-tatting "The Doily" in silk. Saying that I have been distracted would be an understatement. Anyhow I plan to work on it today. I am using "Karon's Halo" and isn't it just shiny?
Also, I have found a few small areas on the doily I want to change.....again..... I just can't help myself