I make Ceramic Tatting Shuttles. What
IS
a tatting shuttle you might ask? Well, it is a tool for creating lace known as Tatting.
This lace work is fine and beautiful and very distinguishable from other forms of lacemaking.
Collecting tatting shuttles themselves has become an art form for many people around the world.
I myself collect tatting shuttles. As a ceramic artist I have had the idea for a very long time to make tatting shuttles out of clay. I have never seen them before, nor have I ever heard of any being in existance. As far as I can gather, I make the only ceramic tatting shuttles in the world.
Every shuttle I make is 100% handcrafted. I do not use molds but rather make each one individually. I painstakingly create, assemble, decorate and glaze every one. It takes about two weeks for a single shuttle to go from a lump of clay to the finished product. They are all truly one of a kind little functional pieces of art!
I just started selling these a short time ago. Before I went "public" I sent several shuttles out to fellow tatters to test them for me. I received so much positive feedback that I decided to "give it a go" and go public with my new shop at:
WWW.LadyShuttleMaker.Etsy.Com
I have big shuttles, small shuttles, shuttles that accommodate large threads and some just for tiny threads but most work well for all sizes of thread.
Mark Myers a.k.a. "Tatman" suggested that my shuttles would be great for tatting with beads.
I definately think there is something for every kind of tatter here!
Below are a couple of recent favorites that came from the kiln.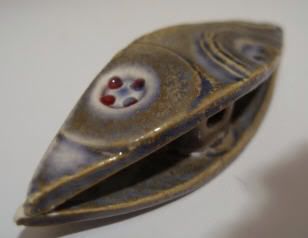 This shuttle with button texture measures 2 3/4" from tip to tip by 3/4" wide. This is a small shuttle.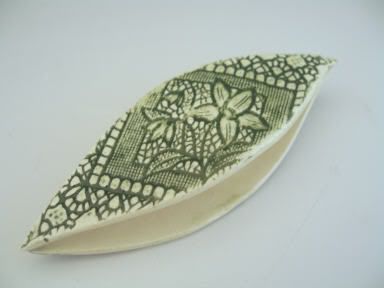 This is a large shuttle decorated with a lace texture. It measures 3 1/2" from tip to tip by 1" wide.
Recently, I have started making custom shuttles. You can send me an image of your choosing and I can create a ceramic decal to place on that shuttle. The possibilities are endless!
Whoo hoo! I am having soooo much fun! ....Working really hard...but having a lot of fun!
I have a kiln firing to finish tonight and I hope to have some more treasures from it tomorrow. I'll keep you posted.