Well, here I am. I suppose it was inevitable that I should end up here in a blog solely about all things tatting!
I just feel like my Great Grandma is up in Heaven smiling down upon me right now. She was so proud the day that I learned and if she could only see what the gift she has given me has blossomed into.
Thank you Grams!
Today I received an absolute treasure in the mail. It was a package of tatting things that I won in an ebay auction. I spent a lot of money on it but now that I see its value I would have spent much more.
In this lot are numerous tatted pieces, many of which I think might be original. Whoever this person was spent an enormous amount of time tatting and cataloging her work. I have over 50 note cards of tatted pieces along with their written instructions. Each tatted in size 80 or smaller thread. It is marvelous.
Several shuttles came with the lot as well as a couple books but nothing as extraordinary as the note cards.
I feel like this person was a kindred spirit! She (or possibly He) was an innovator in their tatting and an extraordinary person. I have many of their handwritten notes and I think he/she may have been a teacher of tatting.
Alas, I have zero personal information about whom this person may have been. All I know is that this came from an estate sale in Paris, Texas.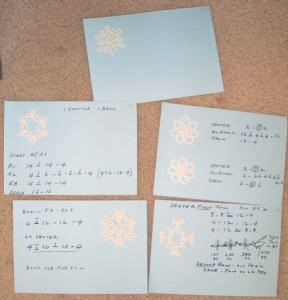 As you can see by this photo this person sewed every little tatted example onto the note cards and then hand wrote the pattern out. This is so special to me. I will treasure it forever!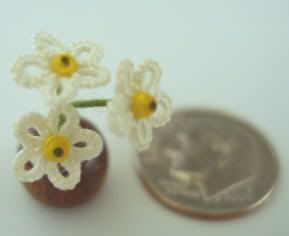 This is another little treasure I found in the lot among the tatting. It is a tiny, tiny tatted flower bouquet. Wow!
Today is a great day in my world of tatting!