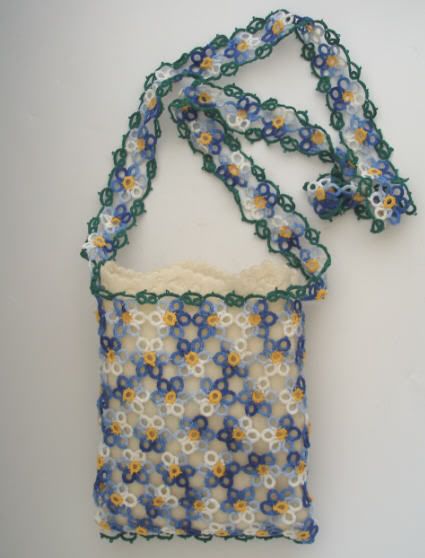 I thought I'd share a purse I tatted a few years ago. I use it to hold my "tatting on the go". That is the tatting that I do in airports, doctor's offices, long car rides; essentially anytime I have to sit and wait. This was inspired by a bookmark pattern in
The Big Book of Tatting
by Darlene Polachic. It took 3-4 months to complete.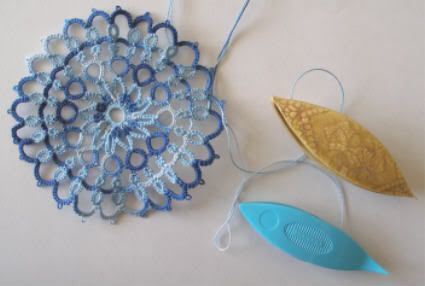 This leads us to my current project; another purse. You'll see that I am using one of my ceramic shuttles with a pic tip to tat this. I am not using two ceramic shuttles at the same time because I don't want them to "clink" together. This picture gives you a good idea of the size of my small shuttles in relation to the standard clover shuttle.
This new project is directly inspired by the "Surprise Doily" I found and posted about a few days ago. The center doily pattern is one that I have adapted from
The Old Fashioned Tatting Patterns Book 1
by Barbara Foster. The rest I am just making up as I go along.
I sometimes use patterns that interest me as a starting point for something completely different, but the way I usually tat is freehand just making it up as I go. I don't reccomend this style of tatting for everybody but it seems to work well for my creative mind. It's funny because that is exactly what I do with recipes too! I like to do my own thing, it's just the way God made me!
Also, I received my size 80 majestic thread in the mail today so I will soon find out if it is me or the thread when it comes to the "thread breaking" problem I have been having.