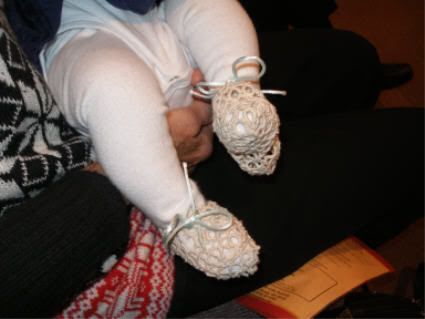 This is a picture of my niece's feet at her baby dedication wearing some booties I tatted. The pattern is from
Beginning Tatting
by Gloria Crowther
. The ribbon is blue because they were tatted for my nephew a few years ealier but he came out of the womb with feet too big to wear them...so they were saved for his baby sister. She is one month old in this photo and the booties fit perfectly.
The Shuttlebirds Tatting Convention is this coming weekend. It will be the first time I will be around other tatters since my great grandma taught me 18 years ago. I can hardly contain my excitement. Even better, I got a phone call from my grandma this morning saying that she would like to join me! I can't believe it. My grandma is a shy quiet little person and she is going to leave the house and go all the way to Spokane with me. This is a major deal folks!
She doesn't tat at all but she is very supportive of my tatting. I am so excited to be able to spend time with her. This is going to be a very special weekend.
If you are going to Spokane this weekend I will see you there!
Whoo Hoo!