This is the perfect time to plug the MySpace Tatting Group.
http://groups.myspace.com/tatting
This group just celebrated it's 1 year anniversary. I have made friends from this group that I hope will last a life time! This group has hosted several exchanges the most recent of which is a Butterfly exchange! Can we say WHOO HOO????
If you are looking for a great bunch of tatting people please check it out and even better, why not join? It's all free!
This is the Butterfly I received from my friend Linda. She found the pattern at
http://www.wcnet.org/~scwheels/page18.htm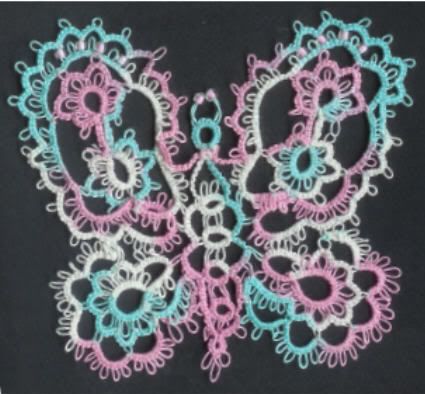 The following are the butterflies that I made for my friend Jen who I will be meeting in "real" life for the first time in a couple of weeks. They are original patterns.
I will be sharing the bottom most pattern in the
online tatting Class
on Monday April 9th.