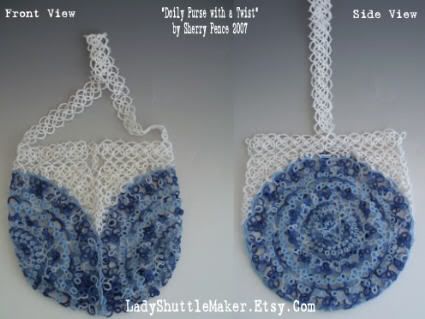 (((WHEW!!!)))....That is my big sigh of relief that this is almost done. I feel like I've put my heart and soul into this project for way too long. But tatting just takes a lot of time and at least I've seen this through. There were many times I wanted to give up from aching bones and muscles, not to mention a disconcerting "tingling" I got in my hands a few times.
I spent a lot of time taking out and re-doing stitches, but that is the way it is with designing. At least I have a pleasing feeling of accomplishment seeing the fruits of my labor.
The purse is now much too big to fit in my scanner. So I apologize for the less detailed photos.
And see....., I told you there would be a twist... You didn't see it coming did you?
Now I just need to create a liner for it. Once the liner is in place it is going to be a poofy (for lack of a better word) purse.
With the "twist" I wanted to create some volume. It will be 3 dimensional when it is completed.
Now I need to finish writing up the pattern and I hope to make it available in my shop real soon!