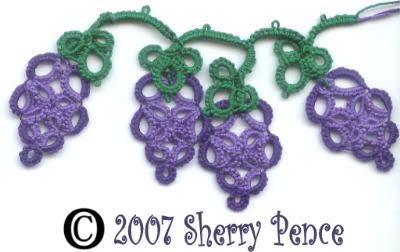 Two posts in one day and my very first edging design! When I get fixated on an idea I can't let it go until I have a satisfactory conclusion. This idea was rolling around in my head for nearly four days. I am very pleased with this edging. I generally don't go in for edgings and doily's and such.
But this is a design I can't wait to use in my own kitchen (which happens to be, what I like to call, my "Italian Bistro").
I am going to have a bugger of a time writing this pattern as I don't know the term (or even if there is one) for the method I used, and I certainly don't know how to transcribe it. Perhaps one of you tatting guru's out there can assist me.
Now that this is done I can get back to doing some pottery.