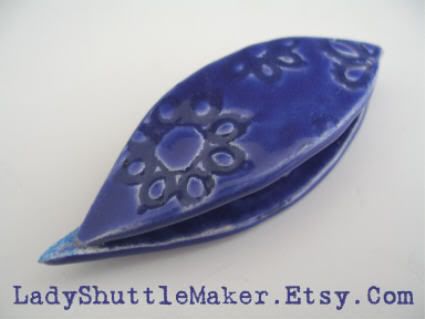 Henceforth all cobalt blue shuttles with pic tips and tatting designs will be known as the "Diane" shuttle.
Diane is my friend and loyal customer. She was there in the very beginning when, how shall I say, my shuttles were not so refined? She stuck with me through price hikes and design changes, and she gave me helpful feedback.
I truly appreciate all her encouraging emails because the Good Lord knows how sensitive us artists can be and there were times when I just wanted to "throw in the towel". I consider Diane my cheerleader!
So Diane,
Thank you
! .... Oh and your shuttle is ready (hee hee).
And I would like to add a special hello to Denise. I feel like I know the pair of you and would like to meet you both in person someday.
I will have a couple "Diane" shuttles available in my Etsy shop later in the week.
I have to say that cobalt blue glaze is a very fussy glaze to work with so needless to say the "Diane" line will be limited in numbers and therefore extra special.