My mother's favorite flowers are lilacs. So I thought I would design an edging of lilacs for her. This is what I came up with. Looking at it, it is probably obvious to you...(but not to me at first) that it looks a lot like grapes. Ha! I can't get away from the grape theme. Anyway, this is a simple two shuttle pattern. Substitute a nice grapey color and add clover-style leaves instead of single leaves and voila!
For those terrified of 5 shuttle tatting, here is my two shuttle version of the grape edging!
I mentioned in a previous post that I thought this would look nice in white so I tested that and here it is.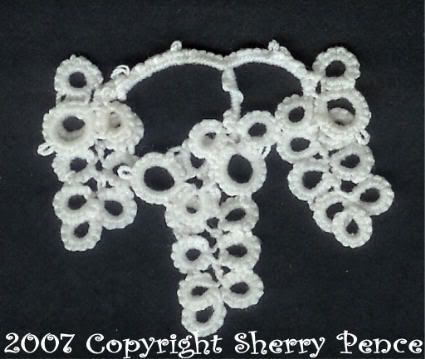 I do like this, but unfortunately the grape leaves seem to get lost in the clusters.
Anyhow, I will try to make these patterns available in book form and/or in my Etsy shop in the future. I have been having so much fun designing patterns and I am trying to ride the creative wave as long as I can, but it's devouring all my time. Unfortunately, my pottery has been suffering and pottery is what puts the "butter on the bread" in my house. So I need to re-prioritize a bit.
Awww, who am I kidding? If I cut out a few more hours of sleep I think I can fit it all in...
Almost forgot... I had the privilege of doing this custom shuttle for a client. Doesn't this little sweetheart just make your heart melt? This shuttle will be a father's day gift to the grandfather of the little girl pictured.