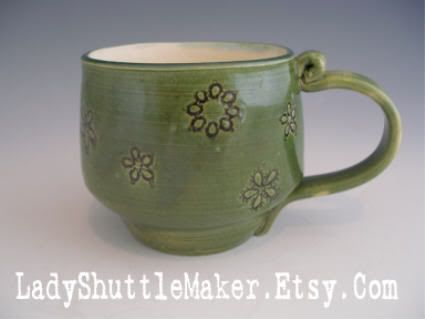 Fresh out of the kiln and into my Etsy shop.
I am working on making more "Pottery with Tatting" items like this. It's just that what I do, (pottery) takes a long time from start to finish so it seems to take
forever
to build up an inventory. Plus I have a lot of other things going on in my life that are impeding my progress. I don't mind though, I like having a full plate of things to keep me busy. I am NEVER bored. I am just impatient. I fantasize about cloning myself all the time. Wouldn't it be nice to get things done in double time? My husband always says that he would make his clone do all the work while he relaxed. But I am afraid that both me and my clone would be working all the time. Ha ha...
Well, stay tuned folks, I will have a lot of interesting things to post in the next few weeks. I promise!