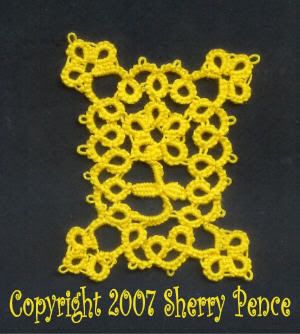 This is a fun little motif I designed when I returned from the Shuttlebirds convention. It has a few little tricks that I learned in the workshops, and believe it or not it is done in one continuous tat.
I am getting more comfortable with the diagramming software and I am trying to diagram one pattern per day.
I still haven't decided which patterns to include in my first book. What would you like to see? A mish mash of different kinds of patterns for all ability levels? A book with just advanced patterns? (This is what I would like to see). A book with just butterfly patterns for all ability levels?
It seems like I change my mind every day.
Pottery orders are taking up most of my time lately (I am definately not complaining) but I am starting to wonder if I'll get the first book done by Christmas.
Oh...and I almost forgot, I turned in three tatted items for our State Fair. I have never entered anything before...wish me luck!
Happy Tatting!