No more fits of tears, my tatting friends have succeeded in cheering my spirits. Thank you all. You are truly caring and special people. I am very thankful for the tatting community. I will try to focus on my blessings rather than all that other lame stuff.

THE Teri "Tatbit" Dusenbury sent me a package that couldn't help but lift my spirits and which arrived at the most appropriate time. I am now part of the bear clan and should not get eaten this winter whilst snowboarding and wearing my wonderful knitted disquise: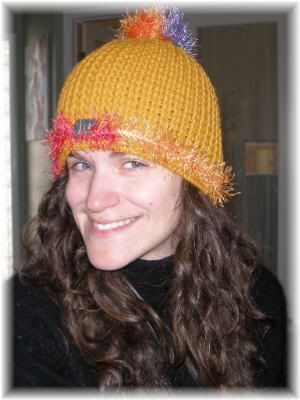 She also gave me some neat thread I can't wait to try, some bolo findings so that I can make a bolo tie for my grandad, and the most amazing bracelet ever!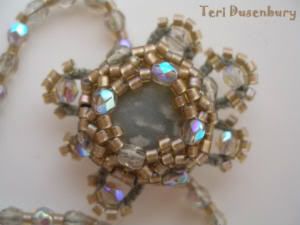 The backside is just a pretty as the front. I will treasure it always!

Georgia Seitz has sent out a "Card Shower" request for Mary Konior. I asked her permission to repost her email and she granted it:

I can just picture Mary getting barraged with wonderful cards (with tatting on them of course) from tatters all over the world.

Hello Tatters!
We are having a card shower for Mary Konior who has recently entered a nursing home. Mary is an internationally known tatter and has published several books:"Tatting in Lace"
"Pattern Book in Tatting"
"Tatting with Visual Patterns"
"A Pattern Book of Tatting"

Mary has been a wonderful tatter, teacher and supporter of tatting for decades.
If you want to send her a card please contact Georgia Seitz: AKTATTER@aol.com

Many thanks,Best wishes, Georgia Seitz

I am going to send Mary a card with this leaf on it; a pattern I created for this wonderful season we are having.


This was tatted with that ever colorful "Rubi 5" size 20 thread.
I decided to share it with you wonderful people.
I wrote it up in a bit of a hurry so please let me know if you have any trouble deciphering it.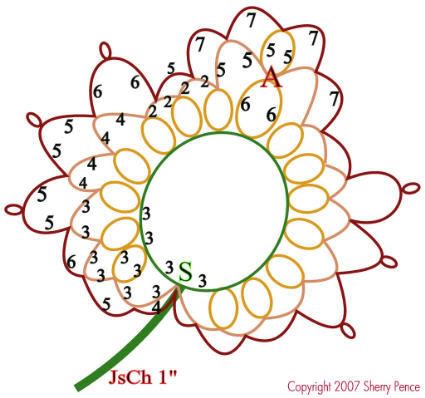 "Autumn Leaf" by Sherry Pence Copyright 2007
Key:
S =Start
r =ring
ch =chain
+ =join
-,p =picot
RW =Reverse Work
LJ =Lock Join
* =repeat
JsCh =Josephine chain (second half of double stitch)

 1 shuttle, 3 ball threads, 4 colors
 Ball thread #1, *ch3-(*15X)3RW tie ends to shape ring.
 Add ball thread #2, *ch3-3RW, r3+(next p)3clRW(*3X)
 *ch4-4RW, r3+(next p)3clRW(*2X)
 *ch2-2RW, r3+(next p)3clRW(*2X)
 ch5-5RW, r6+(next p)6clRW
 ch5-5RW, r3+(next p)3clRW
 *ch2-2RW, r3+(next p)3clRW(*2X)
 *ch4-4RW, r3+(next p)3clRW(*2X)
 *ch3-3RW, r3+(next p)3clRW(*3X)+(start)
 Add ball thread #3, ch4+(LJ next p)5+(LJ next p)
 ch6+(LJ next p) *5-5+(LJ next p)(*2X)6-6+(LJ next p)
 ch5+(LJ next p)7+(LJ next p)7RW, r5+(ptA)5clRW
 ch7+(LJ next p)7+(LJ next p)5+(LJ next p), ch6-6+(LJ next p)
 *ch5-5+(LJ next p)(*2X)6+(LJ next p)5+(LJ next p)4+(LJ next p)+(Start)
 Encapsulate tails in a Josephine chain approx. 1"
 Finish Ends


Cheers,
Sherry