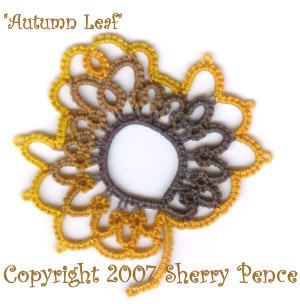 Scroll down for pattern.
I created this pattern to encourage you to use a lot of color. Don't be afraid to switch your ball thread. You only have to put a little thread in your shuttle and switch your ball threads each round. Leave your tails, they are great in this pattern so that you can encapsulate them with a josephine chain for the stem.
Now with all that said, I went ahead and tatted this up with 1 shuttle and 1 ball thread, I used CTM (which I shouldn't have) because I had nothing to encapsulate, so I just made a short chain for the stem. Anyhow, this is
Marilee's
new "Tiger Eye" thread and isn't it just gorgeous! Perfect for this pattern and perfect for those who aren't ready for so many colors in one pattern.