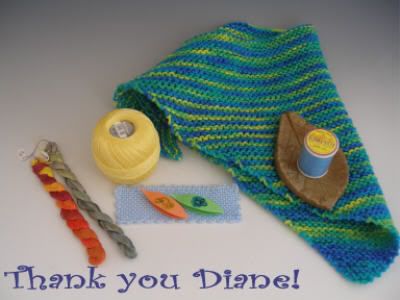 Wouldn't you agree that our tatting friend
Diane
must be some kind of Angel? You all know who I am talking about because she always leaves encouraging comments on everyone's blog. She aways has nice and curteous things to say and is one of the most thoughtful and generous people I know.
Now, I don't intend to embarrass her with this post but to honor her and thank her.
I received a birthday package from her today, full of wonderful surprises. I already have plans for the thread, some of which comes from Yarnplayer...YIPPEEE! And I have always wanted to try King Tut because I've heard so much about it. Then there are the awesome "Diane decorated" shuttles....how cheeky of her! She blogged about them and I had NO idea! I love the shawl and I'm wearing it right now. I will think of Diane every time I use her handweaved bookmark.
Between Teri and Diane (my very young adopted moms), I am getting so spoiled.
I am really enjoying
ALL
my tatting friends and getting to know you all better. I am finding we have more in common than just tatting.
Thanks for being my friends!