I've got lots to share today. First of all I have been kind of quiet because I am putting in an average of 14 to 16 hours a day on my tatting book. I am obsessed. I have finally gotten into the groove of things...especially the diagramming software which has been kicking my butt for months. I think I finally have a handle on it and now I can start kicking it's butt! I am missing my pottery BIG time but I can't stop this momentum so best get it done while I am full steam ahead.

I purchased a fairly large order of "Rubi 5" size 20 thread from Paraguay. My naughty kitty promptly claimed this ball and ran around the house with it before I could catch him, hence the bit of cat hair.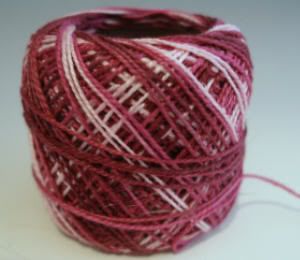 It comes in stunning colors. I tatted up one of my cluny patterns with it to give it a test drive. It's a little softer than Flora which is one of my favorite tatting threads but is so very expensive. It is not as soft as DMC pearl. About right in the middle...but that's just my opinion. It is colorfast. When I blocked it there was no bleeding at all. I didn't have any problem with stretching either, no unraveling and no breaking. I used a pretty rigorous pattern to test it on and overall I am very pleased with it. I will be putting up a few balls for sale in my Etsy shop early next week.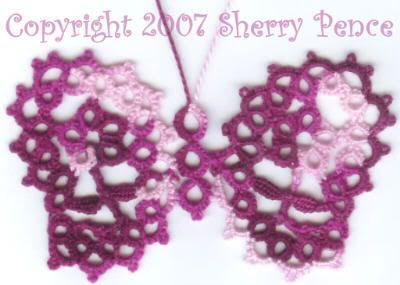 This cluny butterfly pattern is definately showing up in the book. It's entitled "Cluny Love", and in my most humble opinion it's a clever little pattern.
Just in case it isn't obvious to you, (because it took my husband a full five minutes to see it), there is a flower in the middle of the wings.

Here is the next installment of my crocheted hats. I used the giant tatsy shuttle to tat the little/big motif, I may yet add a couple more. I made this hat with my baby sister in mind. I hope she likes it!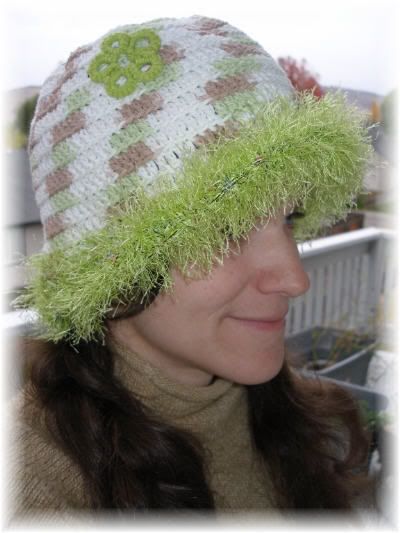 And finally we are having terrific Fall weather here and I was lucky enough to capture this Rainbow in my backyard.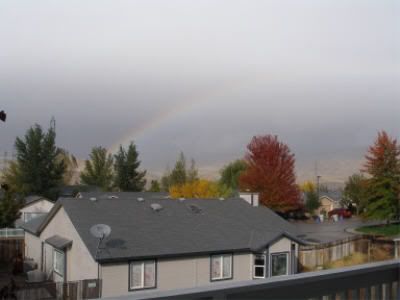 Hope everyone has a lovely weekend...you know what I'll be doing...