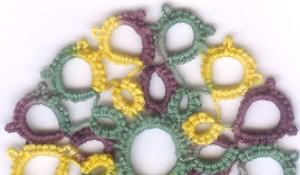 Here is what the hand dyed tatting thread, "Tuscany" looks like tatted up.
I apologize for the lack of posting here. My posts may dwindle during this hectic time. I have already started packing for our move to South Korea. Also, I have been suffering from insomnia for over two months and it is really starting to get to me. I feel like a zombie most of the time. The sleeping meds the doc has prescribed do not help me sleep but they sure give me a whopping headache.
My "sanctuary" is when I get to sit and tat for a little while. Thank goodness for tatting! I have a ton of projects lined up for the Shuttlebirds convention, I hope I can successfully complete them as I have been so distracted. Moving is just a stressful part of life, I know I will feel much better when it is all over.