A lot has happened since my last post. First off, hubby and I went skydiving on Sunday morning. It was awesome and just like I always imagined it would be. We flew to 13,500 feet and somersaulted out of the plane for a 60 second free fall before the parachutes opened. It was exhilerating and not for one second was I ever nervous. However, that is probably because I had an home art show later that day and I was very nervous for that.
Monday I had a long aweful root canal and today I had it crowned so my mouth feels pretty terrible right now. This morning's doc comes in and says, "So how was the root canal?" and I replied in the most cheery voice I could muster, "It was awesome! I wish every day was root canal day!" She laughed!
I was lying there for two hours thinking, "I jumped out of an airplane...I can handle this..." but I wasn't convincing myself very well.
The art show went fantastically and I am ever so pleased. We played classical music, had wine, cheese and chocolate available and hopefully brought a little culture into our friends lives.
I made almost enough money to pay for this dentistry and for that I am thankful.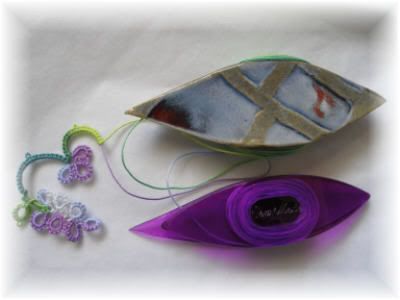 On to tatting related stuff:
I have a new favorite personal shuttle and surprisingly it is a large one. I have small hands and prefer to use small shuttles but I have a big project to work on and I thought "Why not give it a try?". So I chose this shuttle and to my delight is holds 50 yards of size 20 tatting thread, it also feels quite comfortable in my hands. Yippee for trying new things!
Happy Tatting Day!