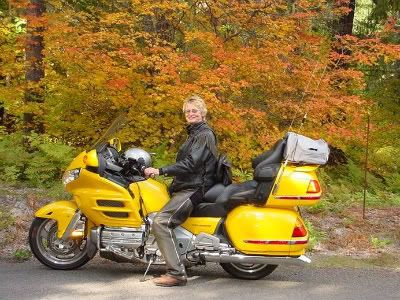 I was graciously given permission to post this picture.
Months ago, Karen and I had a talk about an angelic hand dyed tatting thread while we were taking Terry McGuffin's "Angels" tatting class at Shuttlebirds. I told her I would work on a new colorway and let her know when I was finished. Little did she know that I had the name "Karen's Halo" picked out from day one. I had not, however, decided what the colorway would look like.
I thought on it for a good long time, (in retrospect it seems pretty self evident) and came up with the golden silk blend. I was excited about the results, but I wondered if Karen would like it, since she never mentioned yellow/gold as a color option.
I knew that Karen rode a motorcycle, but I did not know what type of motorcycle it was.....so when she saw my post, I was sent this wonderful and oh so appropriate picture of her on the Goldwing motorcycle.
Is that cool or what?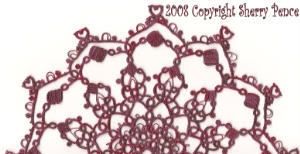 Here is the next round and one more to go. It is far too big to fit in the scanner now. The final round will tie everything together. Even though I sketched this design awhile back it keeps evolving so I expect that there will be a few changes before it becomes a final draft.
I am still waiting to get back in to see the doc to figure out what my malfunction is. Most likely a blend of bacteria and allergies.
More HDT's to come very soon.
Oh, and I almost forgot:
BLOG ROLL
On June 5th, Blogger introduced this "blog roll" option. I've been testing it out and have become addicted to it. It is easy to implement...much easier than a regular link list. You can set it up a few different ways, but I have set mine up to display the blogs most recently posted to first. Now I just look at my "blog roll" everyday to see who has been active and I can go right to that blog. It has saved me a bunch of time. Not all web pages are compatible with this function, hence the reason I have two link lists now.
I have tried to include everyone, but if you see that you are not included and you would like to be please let me know.
I know that some (as well as myself) have set up a google alert for "tatting". I have found this system to be very unreliable. Less than half my posts get indexed, it's very frustrating.
And one more thing....(I am full of it today)
To
TATTYCAT!
Happy B-Day Lala!