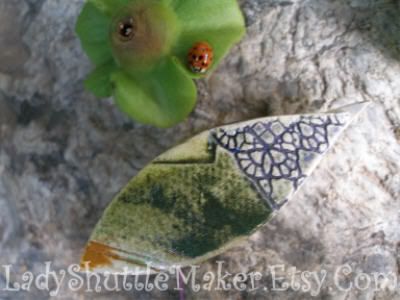 This is the newest shuttle listed in the shop. I am showing the photo so you can see the model that came in for this photo shoot. He was great to work with and I only had to give him a few aphids, which I think were well worth his time.
Also the silk has sold much faster than I anticipated but never fear there are new batches listed in the shop. BTW I am LOVING tatting with this silk, it has exceded my expectations. I could see running into some frustration with it if you had to retrotat which of course I did (retro-tat that is, NOT run into trouble) but I can foresee retrotatting possibly being an issue for newbies. With that said, that is the only drawback I have found with it.
This is the first weekend that my hubby has had off so I am getting very little accomplished as he is the biggest distraction in the world. He is a good distraction but if he didn't have a job and hung around all the time, I would never get anything done.
I was hoping to show the next round of the big doily I posted about previously....ahhh it will happen ....in due time.
But I won't leave without some eyecandy: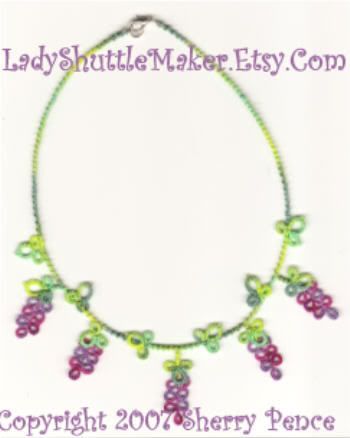 I had to try this pattern with the silk thread. I regret that I have to muck up all my photos with signature stamps. We all know that there is a thief among us and I need to protect my creative property as best I can. It was about a year ago that I discovered individuals "borrowing" my images without my consent or knowledge so that is when I added this extra measure. These disrespectful people were not in the tatting community. Our community is honest, and fun and we tend to band together and protect one another. I am so proud to be in this community and I want you all to know that "I GOT YOUR BACKS".
Anyhow here is a close up so you can see the thread better: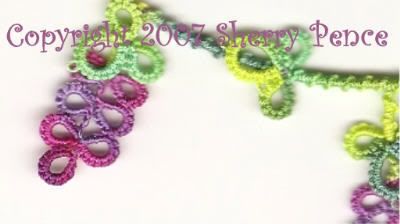 I used size 20 "Seaweed" Hakelgarn for the green portion and size 20 "Hydrangea" SILK for the grapes. I think I will do the whole necklace in silk next time around ...maybe with some beads.
I have promised to share the technique of making this sort of tatting. I realized a video is going to be too long and most likely boring. So I am working on step by step instructions with diagrams. This is taking me quite awhile so please be patient. My tolerance for sitting at the computer for long periods of time is declining.
Also there will be more HDT "Sue Hanson" coming up....stat!