I have a dear friend who is in her 4th year of medical school. We haven't seen each other in two years but we do our best to maintain our friendship. She is so very busy and yet somehow she has made the time to send me not one but two care packages. Her kindness and thoughtfullness has blown me away. Sooooo I spent all weekend gathering goodies to send to her and I just finished tatting the last item to go into her care package.
I found this reprint of a 1915 Pricilla pattern in a Dover book. I couldn't find the name of the designer. I didn't even look at the directions, only the picture: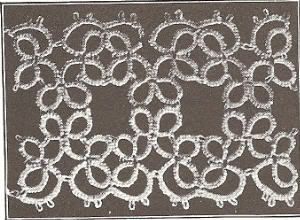 I thought this would make a lovely bookmark in the new hand dyed tatting silk.
...and this is what transpired:

This is tatted in size 20 "Marina" tatting silk. It's feels so awesome and it's all shiny. I guess I really like it because I am a tactile person.
I am pretty sure I met the Korean version of me! Her name is Kyoung-mi and she owns a little pottery shop that took my breath away when I first saw it. She is also a painter, photographer and has a wicked sense of humor... which I love. Most Koreans have a very slap stick sense of humor.
We had an immediate connection. I took a few of my shuttles and other ceramic items to show her. I even tatted a little bit for her. Like I said before, tatting doesn't exist in Korea. So I offered to teach her to tat and she is delighted with the offer. Yay! My first Korean student. I hope I am a good teacher....I haven't been too successfull teaching in the past.
I bought a little piece of pottery from her to put into my friends care package. I am so excited to send it all.