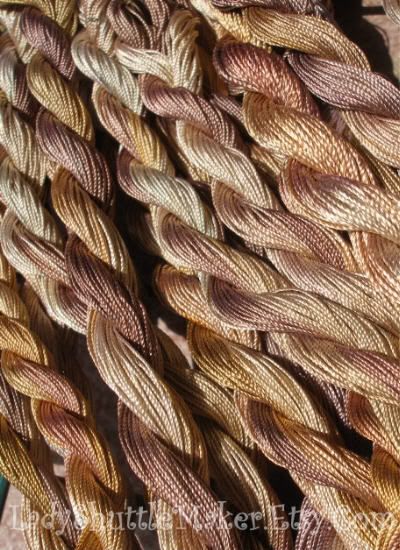 I haven't been this excited about a colorway since "Peach Pandorea".
Just like "Karen's Halo", "Middle Earth" will only be available in silk because cotton just does not give that precious metal look that silk does.
Hopefully the photo relays the rich golds, bronze and coppers. I am so enamoured with the silk threads.
I just hope that I can repeat this colorway because it was tricky and required two separate curing days. If I can successfully reproduce it again I will make it a permanent colorway in the shop.
Still working on other projects that are not quite ready to share.
And "
BLAST IT ALL!
" I am adding yet another change to the "Royal Diadem" doily pattern....the perfectionist in me can not let this one out until I feel it is perfect!
Also, I listed a couple of really whimsical shuttles today.