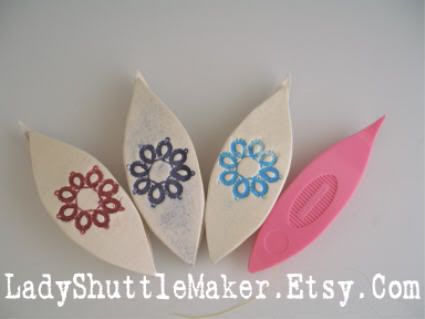 A few of the Pic Tip Shuttles that came out of the kiln this morning.
These have real tatted impressions. The plastic clover shuttle is thrown in the picture to give you a size reference.
I plan to tat something with one of the shuttles today to see how I like them.
Please forgive me if the tone of this particular blogging comes across a little on the negative side. I am very frustrated right now. If anyone ever accuses me of price gouging on these shuttles I think I will go 9 on the Richter scale. If people knew how much time and work I put into these and how many I lose along the way they would know that each shuttle is a bargain. Even other potters can't figure out how I accomplish this monumental task. Ok, I don't mean to rant on that particular subject. I don't want to bore you with technical potter speak but basically I started out with 40 shuttles and only 12 survived the process.
So you can see why I am very frustrated.
On a happier note: I was tatting at Barne's n Noble's last night and I heard this huge gasp and a lady rushed over to my table and started gushing about how she loves needle tatting. We had a lovely little chat.
This whole incident got me to thinking about how I can help further the art of tatting. When I am out in the public I am an ambassador for tatting. So how can I be the best promoter of tatting that I can be? Being a shy and introverted person, I do not feel comfortable talking to strangers, but I thought of a way that might help.
I am going to make up little pamphlets that have valuable information and resources on tatting like what it is and how to learn. When people approach me and ask me what I'm doing or tell me how their great Aunt used to tat then I will give them the pamphlet and encourage them to give it a try.