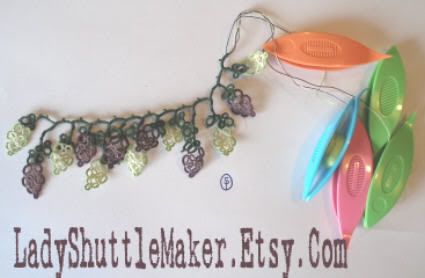 Couldn't resist torturing you all with yet more pictures of grapes. The edging is coming along. You probably didn't notice that I was a just a little bit proud of this edging. Come to find out that I am not that clever after all, I guess there are folks out there who have tatted with a lot more than 5 shuttles at one time.
My pride was short-lived as usual.
I am in the market for some Irish Linen Hankies because I need to put all my new edging designs to good use right? They are really expensive, these handkerchiefs,...who knew?
Anyway, these are the least expensive hankies I found on the internet.
http://www.allaboutblanks.com/Hankies.htm
. If anyone knows of a better deal, please do share.
I got a lovely surprise this morning.
My great Aunt Dolores gave me a shuttle that my great grandmother gave her over 30 years ago. Now I actually have one of my great gran's tatting items....YAY!!! You would think that because I am the ONLY person in the family who tats and everyone knows it that I might have more of Great Grandma's tatting things but they were all pilfered and scattered to the winds after her funeral. I didn't mind because being a child at the time I wasn't entitled to anything. And besides, of what use are shuttles, thread and bits and bobs of lace without any skills to put them to use? But I can't deny that it is nice that one of her shuttles has migrated back to me.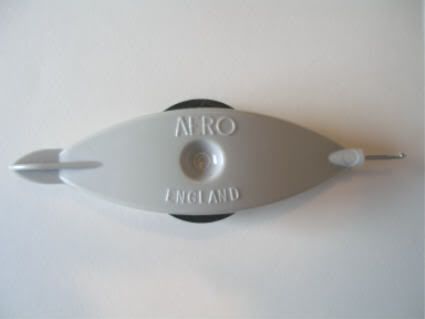 Now I am probably putting myself at risk for some hate mail here but I don't really care for the bobbin style shuttles and I guess these are the ones that Jane E really goes nuts over...(made in England). But because it was touched and used by my GG I am going to tat with it. Who knows, maybe I'll start liking them.................................................................................but I doubt it, (hee hee).