There are similar edging patterns "out there" to this one in look but not in design.
I have been working on this pattern for quite awhile with disasterous results but just when I felt like giving up, I finally figured it out and it is so simple. In fact it is very similar to the
5 shuttle grape edging
I designed a few months ago.
With this pattern you can have and many shuttles as there are colors of flowers. I chose to do the "baby" colors with this size 20 flora thread.

Or you can keep it a simple two shuttle pattern and maybe use a varigated color for the flowers such as the size 80 majestic blue thread I used here.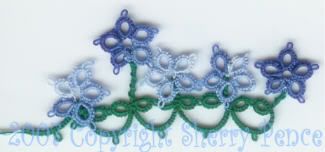 Ooooh, a thought just occured to me,
Marilee's
hand dyed thread would look lovely in this pattern.